HOMESCHOOL DAY AT THE CAPITOL
It's Time!
Attendance at Homeschool Day at the Capitol is free to everyone, but we ask that you register so we know to expect you. Please use the following form to register your attendance for this event taking place on March 4th, 2020 at the Capitol Building in Atlanta.
GHEA is offering two classes for children ages six and up. One on the legislative process and one on the judicial processes.  Class registration includes both classes! Class registration for non-GHEA members is $10 per child. Join GHEA today, or log in as a member, and get the member rate of $5 per child, with a cap of $15 per family.
Membership has its benefits!
Tentative Schedule:
9:00 - Doors open
9:30 - Class on Judicial Process, with special guest speaker, Georgia Supreme Court Chief Justice Melton
10:30 - Class on Legislative Process (how a bill becomes a law and special legislative guest speakers)
ALL DAY: Meet with your legislators (contact their offices)
*Schedule Subject to Change*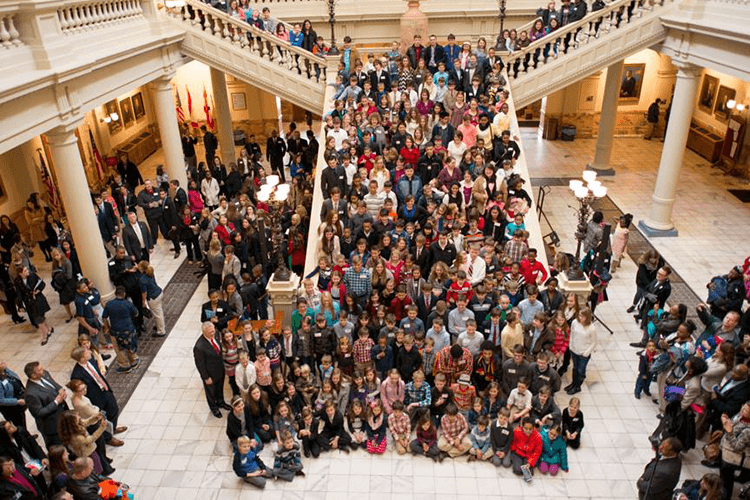 New This Year
Chick-fil-a will begin serving PRE-ORDERED lunches in the Fellowship Hall downstairs at 11am. To order your optional lunch, please fill out and submit the form at the following link.
Additionally, Capitol tours will be running at various times throughout the day (times and meeting locations being confirmed and posted ASAP)
This year we will also have a "buffet" of learning opportunities in the Capitol building on the 4th floor. If you've attended the legislative and judicial classes before, you may wish to take these new offerings in the morning time block! All are optional, but you won't want to miss these:
How Georgia Became a State - 9am & 1pm
How Atlanta became a Capitol - 10am & 2pm
Native Americans in Georgia - 10am & 2pm
We will also have various  "Exploration Zones" for your students to add to their day! This is a mixture of guided and self-guided and a map of locations will be posted!
Register for 2020 Homeschool Day at the Capitol (as a Non-Member)